Download The Report | National Survey on Teachers' Retirement Perspectives (PDF)
The shortfall in funding for teacher pension systems has grown to around $700 billion nationwide. Those same pension funds are projecting that only 20% of new teachers will work long enough to collect a full pension (on average). It is clear that action is needed to both improve the financial sustainability of these systems and retirement security for teachers. But what do teachers want?
Equable Institute recently conducted a nationally representative survey to better understand the ways that teachers value their retirement benefits, as well as their awareness of challenges facing public sector pensions.
Discussions about the future of teacher pensions often take place without a clear understanding of the perspective of teachers themselves. Gaining a deeper understanding about what teachers think – including where there are diverging points of view — was the goal of the National Teacher Retirement Perspective Survey.
Here are some highlights of key findings from our opportunity to hear teacher voices:
1. Teachers see their current retirement plan as central to their future retirement security, but they aren't very satisfied with the pension plans they have. Putting importance on whatever retirement savings an individual might have is to be expected, but it was unexpected that teachers would rate their satisfaction relatively lower. One reason for this lack of satisfaction might be that the majority of teachers are not very confident that they will receive their full retirement benefits; other reasons could be related to the size of benefits, lack of retirement plan options, or perceived fiscal challenges.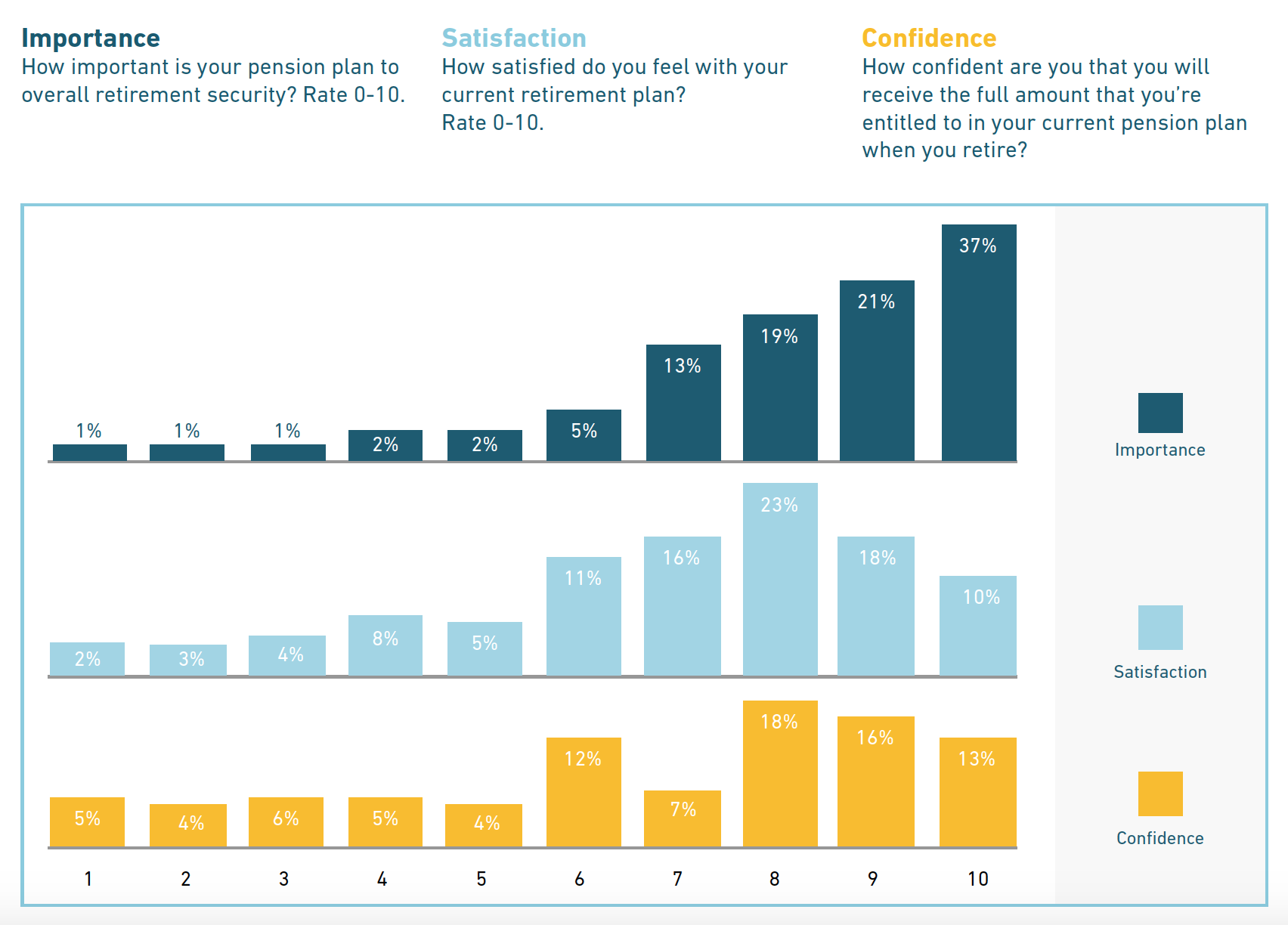 2. Across age groups, teachers care about their retirement plan providing guaranteed income security, not necessarily how it is provided. Pensions are one way to offer guaranteed income, but retirement plans can be designed to provide monthly secure income.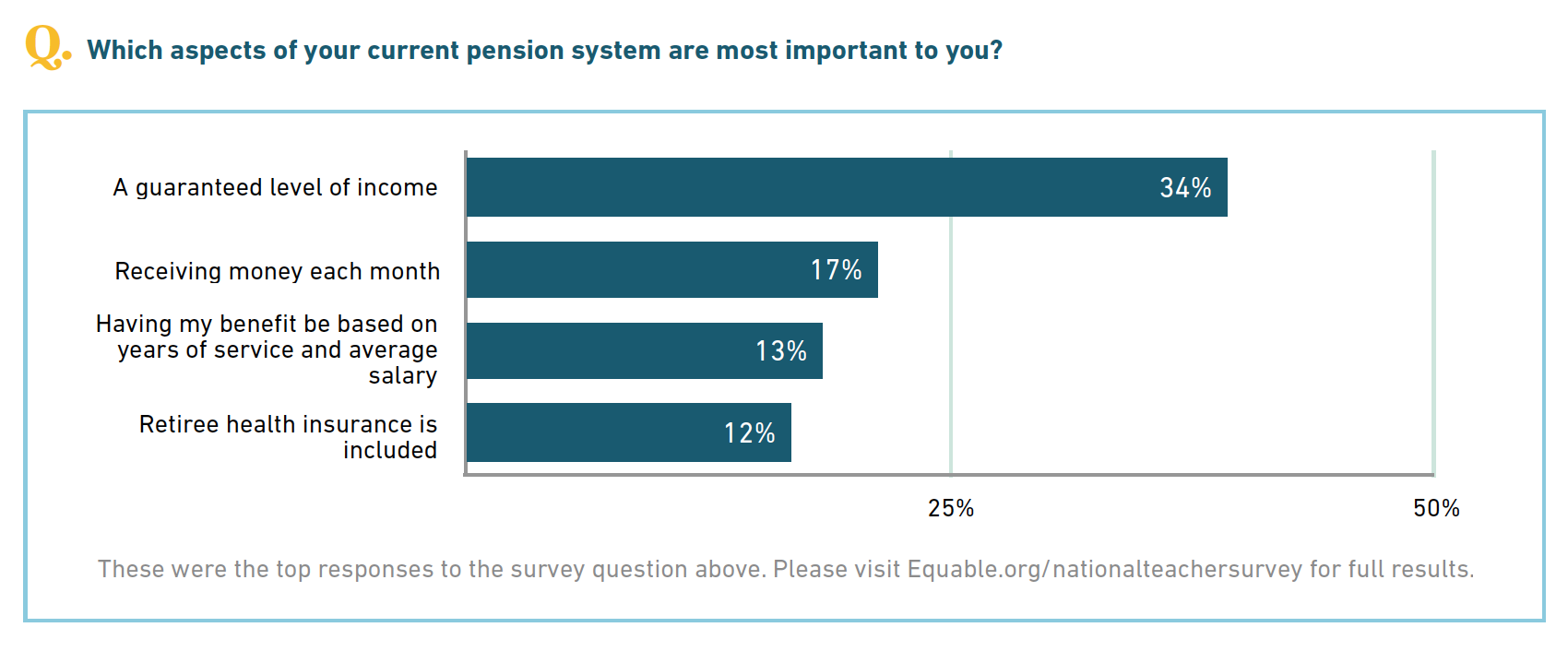 3. As teachers progress through the profession, they increasingly value the retirement benefits; however, not all teachers are confident that they will receive their full pension benefit when they retire. Younger teachers are much less confident in the promises of their current pension plan.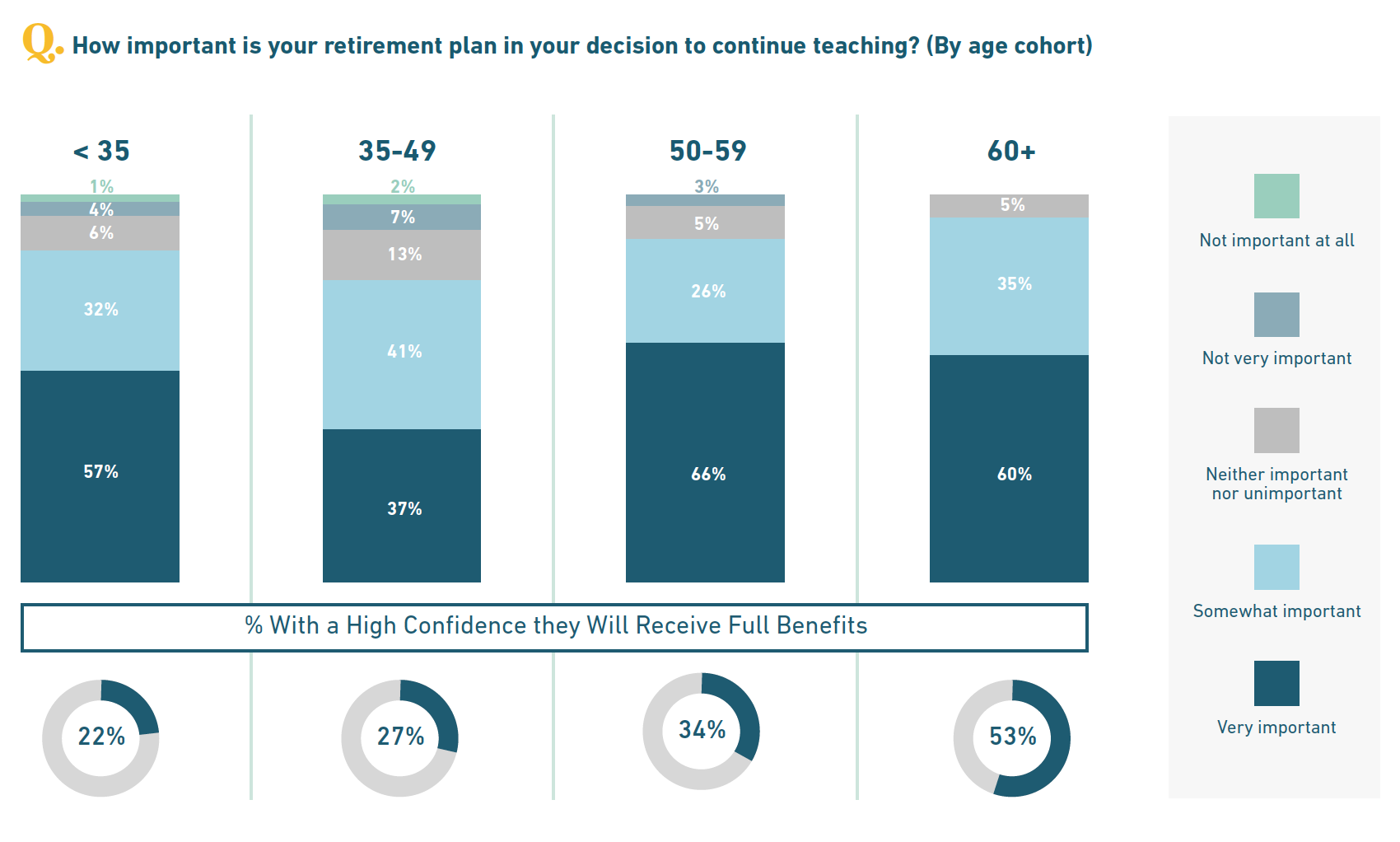 The percentage of teachers under the age of 35 who have "high confidence" is less than half of those who are 60 years old or more. On a scale of 0 (no confidence) to 10 (extremely confident), teachers were asked to rate how likely they thought it was that they'd receive their full pension. The percentage that felt a 9 or 10, i.e. high confidence were:
60+ years old: 53% high confidence
50 to 59: 34% high confidence
35 to 49: 27% high confidence
Under 35: 22% high confidence
4. When asked about openness to a conversation about changes to the status quo for existing pension plans, teachers reflected a range of perspectives. There is no single "teacher" perspective on pension plans: 54% expressed openness to a discussion (as measured by a 7 or higher) and 15% were not interested in a conversation about change (a 4 or lower).

We find this encouraging, as the process of making improvements to teacher retirement systems is always more positive when educators as stakeholders are at the table for discussions.
5. Teacher pension funds nationally have a $700 billion shortfall in assets, based on the accounting used by each state. Those shortfalls are in nearly every state; only seven states have saved at least 90% of the money that they need to pay for teachers' retirement benefits. Teachers generally aren't aware of these problems, but those who are think they are serious and worry they will be personally affected.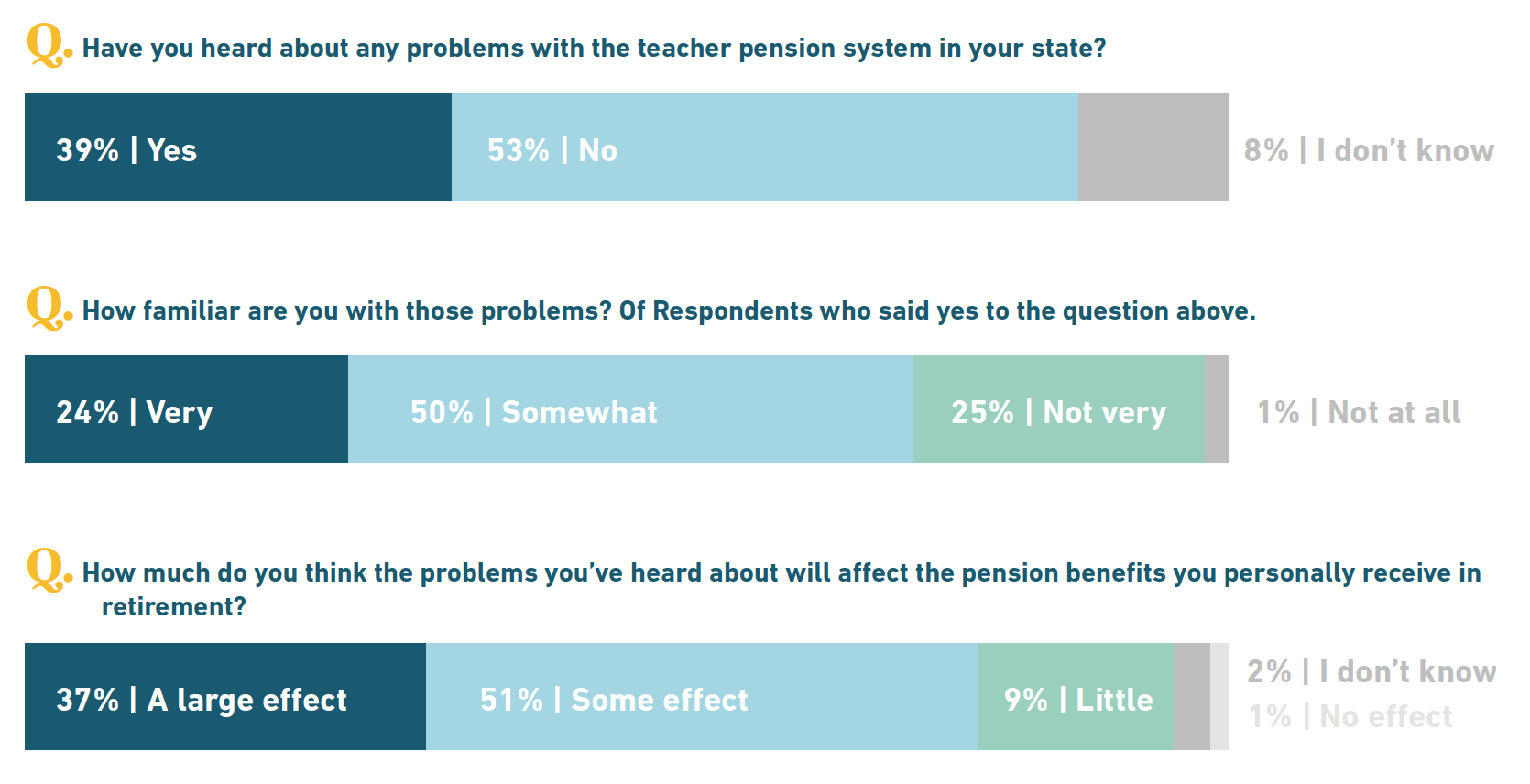 To see the funded status for teacher pensions in your state, check out this article.
_______________
About the Survey
Equable Institute, EducationCounsel, and Hattaway Communications conducted a nationally-representative survey of 1,210 public school teachers currently enrolled in a public pension plan between May and June 2019.