Infographic: State Funded Ratio Histories

Download this infographic here.

These graphics originally appeared in the December Update to State of Pensions 2020. Read the report at Equable.org/stateofpensions.

Individual state graphics are available for download here. 
Which States Have Laws that Allow for Police Pension Forfeiture?
If a police officer commits a crime in the course of performing their duties, they may be at risk of losing their pension. But only in certain states.
Most states have some kind of "pension forfeiture" laws on the books. These laws usually are related to public employees that are either convicted of, or plead no contest to, a felony or unlawful killing.[1] Only 24 of the state laws cover law enforcement employees, such as police officers.[2]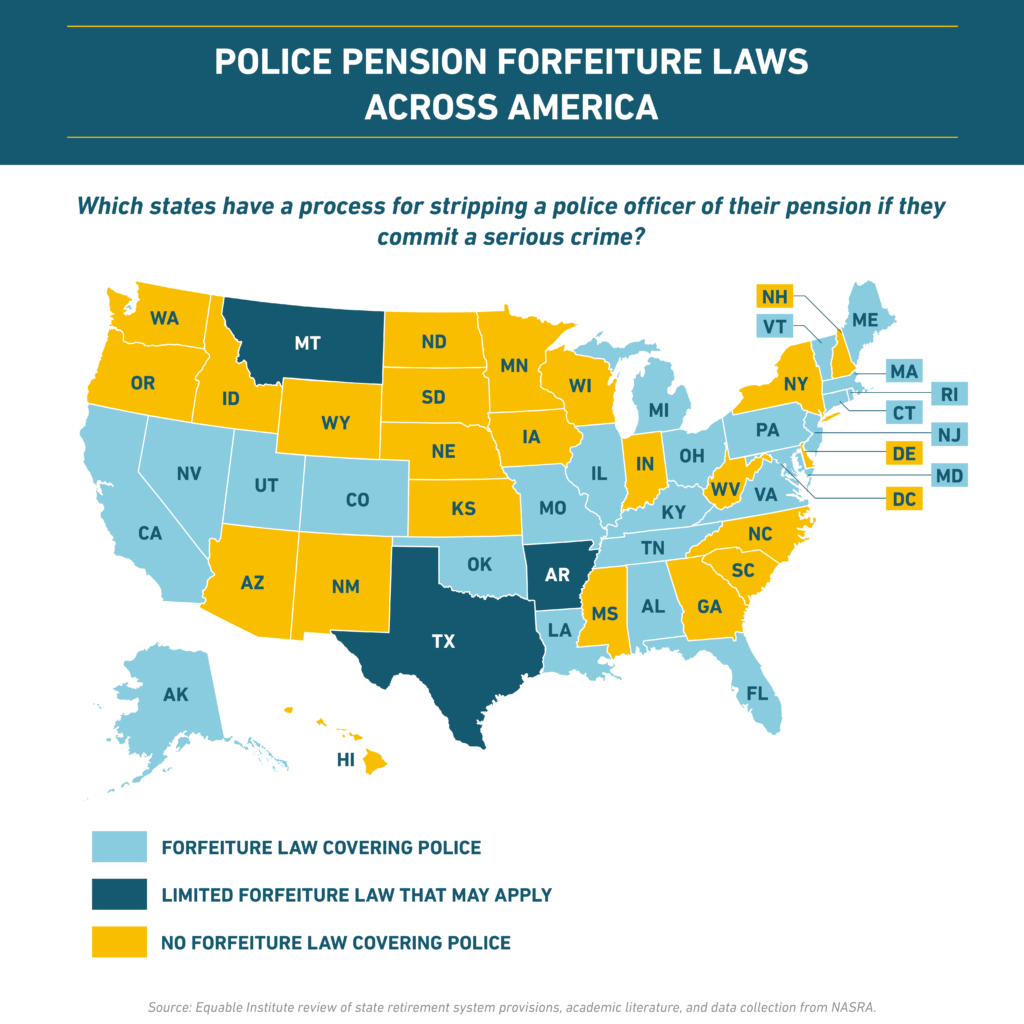 The details about what kind of crimes will lead to pension being stripped from a police officer vary from state to state. Usually the forfeiture law is limited to on-duty offenses, other times it is not. A few states allow for pension benefit reductions rather than taking the whole pension away. And the process for determining whether a pension is to be forfeited isn't always the same: some states automatically strip pensions from individuals under these circumstances, other states have judges order the pension taken away or require pension boards to hold  proceeding to consider taking the right to a pension away.
For complete details, please review the relevant statutes in your state.
Disclaimer: This article and infographic is not intended as legal advice or formal legal analysis. 
__________
Notes:
[1] There are seven states with pension forfeiture laws that do not apply to police officers, including: Delaware and Minnesota (laws only applies to surviving beneficiaries who commit an unlawful killing, not active members); Indiana and South Carolina (laws allows for pension benefits to be used as restitution for theft or embezzlement of public property, but does not otherwise require forfeiture for committing a crime); New Mexico and North Carolina (laws allow for pension forfeiture of elected official benefits only); New York (a 2018 law only allows pension forfeiture for elected officials, judges, and gubernatorial appointees)
[2] There are three states with laws that could be interpreted as covering police officers in addition to the 24 listed on the map above. Texas has a pension forfeiture law that only applies to the state Employees' Retirement System, which does include some state police officers, but does not cover the vast majority of police around the state. Arkansas and Montana have laws that strip the pension of a public employee if they commit an unlawful killing, but only if the person they kill is another public employee.
Pension Fund Troubled as One in 5 MBTA Retirees is Under 50
More than one in every five MBTA pensioners retired before age 50 as the state increasingly has to pick up the tab on the T's troubled pension fund that's running big deficits even in the current strong market, a Herald analysis shows.
"It's a few retirees who are being subsidized by the Massachusetts taxpayers," said Mark Williams, a Boston University finance professor who tracks the MBTA Retirement Fund. "They're eating two bites at the apple, plus they get to work at another job."
That's referring to the situation caused by the T's longstanding "23-and-out" policy, which didn't put a retirement age on its workers — it just required 23 years of service, at which point they could grab the pension, eventually become eligible for Social Security, and pick up another gig at the same time.
That's what led to 22% of the 5,626 people receiving T pensions having cashed out under age 50, according to a review of MBTA Retirement Fund data. The average T pensioner is 55.8 years old.
The retirement fund has floundered deeper into fiscal danger, last year reporting $2.91 billion in liabilities versus $1.45 billion in assets. The fund said no new data is available about that breakdown at this point. It falls on the state to fill the annual shortfall, which resulted in the MBTA budgeting $118.2 million to keep the retirement fund afloat for the current fiscal year. That's up from $102.9 million in fiscal year 2019 and $93.8 million the previous year. That's now more than half of the total yearly payout, which is upward of $201 million, per the data.
Read the whole article in the Boston Herald.
_______________________
This article quotes selections from "One in 5 MBTA pensioners is younger than 50 as fund struggles" by Sean Philip Cotter in the Boston Herald.
Pension Liability Payments Grab Big Share of Limited State Revenue
When Gov. Charlie Baker lifts the curtain on his fiscal 2021 budget this week, many Beacon Hill observers are going to flip right to the education section to see how great of an increase public schools might get under the new funding law. But there's another spending area that will grow by an even greater percentage – the annual payment toward the state's pension liability.
Baker's budget office filed the new, three-year pension funding schedule Wednesday, detailing how Massachusetts will boost its annual pension payment by more than 9.6% each year – and by more than 30% over the three-year period – as it works to stash away money to cover the $41 billion unfunded portion of the state's expected pension liability of more than $96 billion.
To remain on track to fully fund the liability by 2036, the state's annual pension contribution will have to grow at a clip far more rapid than the growth forecast in state tax revenue.
The funding schedule doesn't just limit some options for lawmakers as they craft the state's annual budget, but it also impacts the approximately 314,637 retired or active state employees and municipal teachers who are part of the Massachusetts State Employees' Retirement System or the Massachusetts Teachers' Retirement System.
Read the whole article in the Milford Daily News.
_______________________
This article quotes selections from "Pensions grab big share of limited revenue" by Colin A. Young in Milford Daily News.