The Best U.S. States for New Teacher Retirement Benefits
There are lots of factors that new, prospective K–12 teachers have to consider when entering the education workforce. People typically pay the most attention to things like salary, location, and health insurance benefits, but what U.S. States are the best for new teachers looking for secure retirement?
Retirement benefits are a unique form of compensation in that they are deferred compensation. It is straightforward to compare the salaries offered to teach in one county versus another, or even to look at the health insurance benefits (medical plus dental? plus vision?) offered by one school district versus another. But comparing retirement plans on a state-by-state basis is a more difficult because there is no intuitive way to understand the value of one pension plan versus another, or whether a hybrid plan or defined contribution (DC) plan might be more valuable.
This article provides a ranking of states based on the quality of retirement benefits that they offer to new teachers entering the workforce in 2022-23, first published in Special Report #3 of the Retirement Security Report Teacher Edition.
The Top 10 / Bottom 10 States by Average Quality of Retirement Benefits for New Teachers
South Carolina (94.2%)
Tennessee (88.2%)
South Dakota (78.7%)
Oregon (78.6%)
Michigan (75.3%)
Washington (74.4%)
Rhode Island (73.9%)
Florida (73.7%)
Hawaii (71.0%)
Virginia (70.7%)
…
Illinois (49.7%)
Mississippi (49.6%)
Alabama (49.1%)
New Jersey (48.0%)
Nevada (47.1%)
Georgia (46.2%)
Wisconsin (46.1%)
Kentucky (46.1%)
Texas (44.9%)
Louisiana (33.8%)
The score shown for each state is the percentage of available Retirement Benefits Score points that the retirement system averages overall for all open retirement plans available to public school teachers for the 2022-23 school year.
How States are Ranked
Our approach to ranking states is to grade each retirement plan offered to public school teachers based on the quality of benefits offered to three groups of people: those who are only going to teach for 10-years or less ("short-term" teachers), those who are going to spend 10-20 years in the classroom ("medium-term" teachers), and those who will teach in K–12 education for their entire lives ("full career" teachers).
This ranking includes all types of retirement plans for teachers, including "pension" plans, "defined contribution" plans, "guaranteed return" (or "cash balance") plans, and "hybrid" plans that blend together various elements from the first three plan types.
While most teachers do not make their job decisions based on the retirement benefits being offered, today's workforce is highly mobile and very much in flux. It is easily conceivable that someone who is getting their teaching certificate or finishing up an education program or considering changing professions might have some flexibility in where they want to go to work.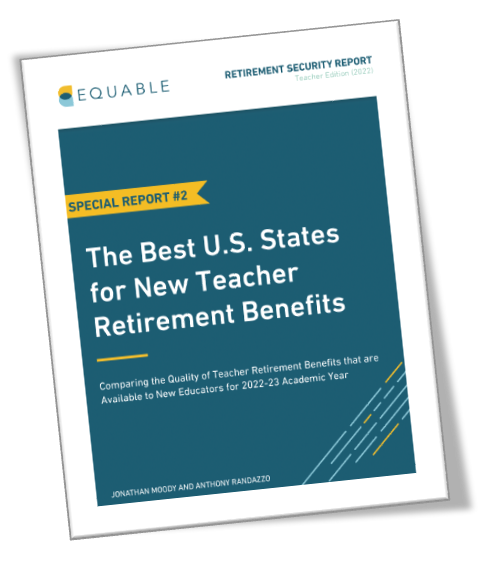 State Ranking
States Ranked by Best Retirement Plan Available to New Public School Teachers
| wdt_ID | Rank | State | Best Plan Available (Design Type) | Overall Retirement Benefits Score | "Short-Term" Teacher Score | "Medium-Term" Teacher Score | "Full Career" Teacher Score |
| --- | --- | --- | --- | --- | --- | --- | --- |
| 1 | 1 | South Carolina | DC Plan (Pension Option Available) | 94.20% | 86.20% | 96.40% | 100.00% |
| 2 | 2 | Tennessee | Hybrid | 88.20% | 77.90% | 86.70% | 100.00% |
| 3 | 3 | South Dakota | Hybrid | 78.70% | 62.30% | 75.50% | 98.30% |
| 4 | 4 | Oregon | Hybrid | 78.60% | 59.30% | 76.60% | 100.00% |
| 7 | 5 | Michigan | DC Plan (Hybrid Option Available) | 75.30% | 58.30% | 67.70% | 100.00% |
| 10 | 6 | Washington | Pension (Hybrid Option Available) | 74.40% | 52.20% | 72.60% | 100.00% |
| 11 | 7 | Rhode Island | Hybrid | 73.90% | 60.00% | 63.30% | 98.30% |
| 13 | 8 | Florida | DC Plan (Pension Option Available) | 73.70% | 66.50% | 63.00% | 91.80% |
| 14 | 9 | Hawaii | Hybrid | 71.00% | 41.70% | 71.50% | 100.00% |
| 15 | 10 | Virginia | Hybrid | 70.70% | 51.50% | 62.30% | 98.30% |
Notes:
(1) "Pension" means a defined benefit pension plan, "DC plan" means a defined contribution plan, "GR plan" means guaranteed return plan (or cash balance plan), and "Hybrid" means a hybrid plan that combines elements of pension, DC, and/or GR plans.
(2) Different retirement plan designs (pension, DC, guaranteed return, hybrid) have different available Retirement Benefits Score points, given the underlying variance in the kind of provisions offered by each plan design. The percentages shown are the percentage of available Retirement Benefit Score points.
(3) The following states offer multiple plans to teachers who must make a choice which they want to join: Florida, Indiana, Michigan, Ohio, Pennsylvania, South Carolina, Utah, Washington.
(4) The following states show average scores for a statewide teacher plan and separately managed municipal teacher plan: Illinois, Minnesota, Missouri, New York
(5) Colorado has separate pension plans for Denver Public Schools and all other state school districts, but both plans are managed by the same state administrative organization.
(6) Nevada has two pension plan designs with different contribution rate structures. In most school districts the employer decides which to offer, but in some places employees have a choice.
(7) Rhode Island has different hybrid plan tiers of benefits based primarily on whether or not an individual is enrolled in Social Security.
(8) Texas has two pension plan designs that new members can join that differ slightly in their provisions based on the previous state employment history of the individual.
What All of This Data Means for Teachers
Many of the lowest scoring retirement plans for teachers are those that were created in the years following the Great Recession.
While some states replaced their pension plans with lower-risk alternative plan designs that offered comparable benefits, others simply reduced the value of pension benefits offered to new teachers. The net result is that the value of pension benefits today are roughly $100,000 less than they were in 2005, a 13% decline over the past two decades.
Teachers who were already hired before states began creating new tiers of benefits with less value will still retire with the benefits they were promised. This means the benefit value reduction is going to be felt primarily by new generations of teachers.
All of the new pension plans and benefit tiers were put in place as part of a wave of legislation to reduce costs and the risks to taxpayers from future investment shortfalls. These goals are understandable in the context of economic recession and financial volatility. And in the years since as teacher pension plans have accumulated over $600 billion in pension debt — i.e., unfunded liabilities — the costs of paying this down have become an acute burden for states and school districts.
But the state legislatures who chose to continue offering pension benefits only through a lower valued tier of benefits have effectively shifted the costs of their legacy retirement plans on to educators. By cutting the benefit values for future teachers, states are forcing those individuals to find additional ways to use their salaries to save for retirement independent of the state retirement system. The best U.S. States for new teachers do not put teachers in this position.
____________
Details & Methodology Notes
Our ranking approach starts by grading each teacher retirement plan using Retirement Security Report methodology. This assigns a Retirement Benefits Score to each plan based on how well they are serving short-term teachers, medium-term teachers, and full career teachers. We blend those scores together to get an average overall score for each retirement plan. And that is what is used to determine the score for each state.
If a state only has one retirement plan that is open to enrolling new teachers, then the score for that retirement plan is the score for that state. If a state has multiple retirement plans available for new teachers to join, then we calculate the average score of those plans, and that is the score for the state.
Using this approach, the best state in the country for new teacher retirement benefits is Tennessee. Their hybrid plan for teachers serves all members well, including earning 100% of available Retirement Benefits Score points for full career teachers and 77.9% of available points for short-term teachers.
For states like Tennessee, South Dakota, or Oregon, the score for the one hybrid plan that they have available for new teacher is how we've ranked the state itself. For states like Pennsylvania and Michigan, each of which offers the choice of a hybrid retirement plan or defined contribution plan, we've averaged the scores for those plans to come up with a ranking for the state itself.
An example of how this works is South Carolina. They offer teachers the choice of a pension plan or defined contribution plan. The defined contribution plan on its own is actually the highest scoring teacher retirement plan in the country, but the South Carolina pension plan does not get very good scores. The average of those two puts South Carolina in fourth among the states with 78% of available points scored — 10% percentage points below Tennessee.
In cases where a state has a plan for teachers that is intended to be supplemental to primary retirement benefits or is only offered to part-time teachers, we do not include that in the state's average. We also do not include retirement plans that are only offered to non-certified public school employees or plans exclusively for higher education employees.
Introducing the Retirement Security Report Teacher Edition
On June 28th, Equable Institute issued the Retirement Security Report Teacher Edition (2022). The report builds on The Retirement Security Report (RSR) initiative launched last year that evaluated the quality of retirement benefits offered to public workers nationwide using Equable's Retirement Benefits Score methodology for all 335 statewide retirement plans currently open to new hires at that time.
The Teacher Edition of the report is an in-depth look at the 316 retirement plans currently offered to teachers and non-instructional staff in the U.S., including those offered to new hires and legacy plans with active enrollees – adding more than 200 plans to both our benefits database and interactive retirement security scorecards. The resulting omnibus analysis is comprised of four papers – a summary report and 3 special reports – that illuminate the state of teacher retirement benefits today.
Summary Report: "The National Landscape of Teacher Retirement Benefit Security"

The National Landscape of Teacher Retirement Benefit Security provides an overvie of teacher retirement benefits in America. The paper highlights the trends in the value of pension benefits, evaluates how well teachers are being served by the retirement plans offered to them based on plan type, and other key trends and analysis that are further expanded upon in the three special reports.
Read and Download the Summary Report 
Special Report #1: "The Fading Value of Teacher Retirement Benefits in America"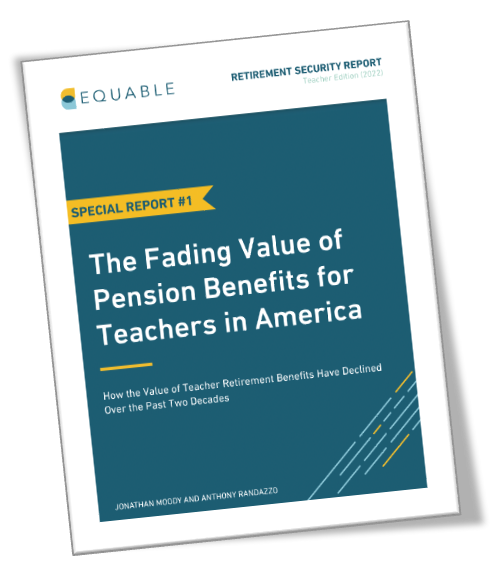 Special Report #1 looks at historical trends in the value of teacher retirement benefits. Analyzing lifetime benefit values going back to 1965, the report shows teachers today enrolled in a pension will earn 13% less in retirement than a teacher hired before the Great Recession. The report also evaluates similar trends in value for other retirement plan types.
Read and Download Special Report #1
Special Report #2: "The Best U.S. States for New Teacher Retirement Benefits"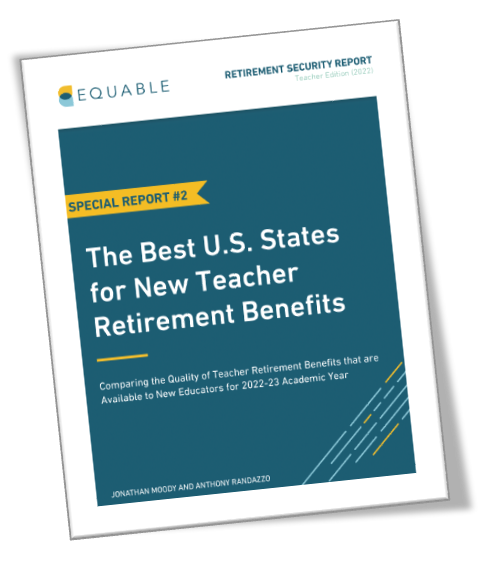 Special Report #2 ranks states by the quality of their retirement benefits offered to new teachers using Equable's Retirement Benefits Score methodology. The report offers two rankings: The first based on the best-scoring plan offered to teachers in each state and the second based on the average score for all plans.
Read and Download Special Report #2
Special Report #3: "Important Elements of Quality Teacher Retirement Plans"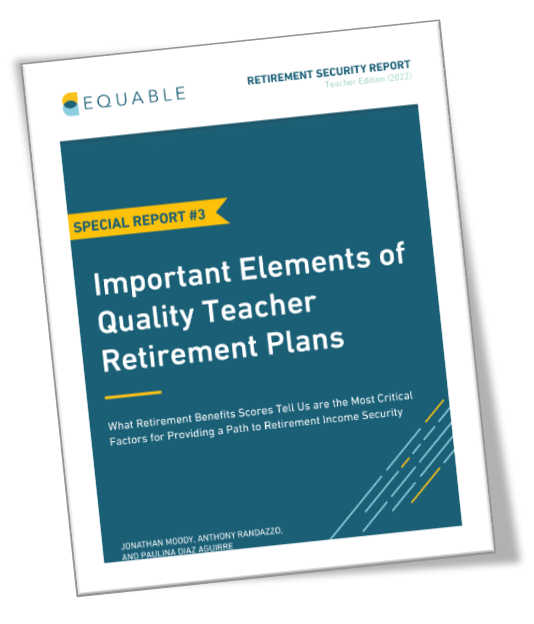 Special Report #3 analyzes the design elements of the top-scoring plans in the Retirement Security database. The paper illuminates the best practice in plan design that help to ensure retirement income security for teachers.
Read and Download Special Report #3
In the coming days and weeks, we will be highlighting key findings and more data from the Retirement Security Report Teacher Edition. Visit equable.org/rsr to read more RSR content and learn more about the initiative.
About the Retirement Security Report 
The RSR is a universe of in-depth research, interactive tools, policy scores and other resources to shed light on the quality and value of retirement benefits for all public workers. All RSR projects are based on data from our comprehensive benefit database of retirement plans offered to public workers and use an open-source scoring methodology that accounts for three primary criteria: Eligibility, Income Adequacy (based on a 70% pre-retirement income replacement rate), and Flexibility & Mobility.
Infographic: The Protections for New Jersey Workers' Public Pensions
New Jersey teachers', public safety officers', and public workers' pension benefits are entitled to certain protections under state law and affirmed by court rulings. At the same time, the state does have some legal precedent that allows them to change particular aspects of retirement benefits.
In other words, there are parts of public pension benefits that can be changed by future state laws, but only certain parts of those benefits.
Equable Institute partnered with Columbia Law School's Center for Public Research and Leadership to create infographics that map states' pension governance. Understanding the legal environment for pension policies can be confusing for both lawmakers and public workers, but illuminating legally permissible policy pathways to improve funding sustainability and ensure adequate retirement income security for states' workforces is essential.
In the case of New Jersey, state law allows the legislature to decrease cost-of-living adjustments for public workers. In 2011, they did just that, mandating that COLAs could not be handed out until the retirement systems reached a funded ratio of at least 75%, with the exception of COLA increases promised to retirees before the law went into effect.
Some public workers sued the state in an effort to have that part of the law overturned, but a judge ruled it was in the best public interest to keep it in place.
Changes have also been made to employee contribution rates — the Legislature in 2011 enacted phased contribution rate increases for members of the Public Employees' Retirement System (PERS) and Teachers' Pension & Annuity Fund (TPAF) that would lead to a 7.5% contribution rate, and raised the retirement age from 62 to 65.
The legal environment is favorable for these shifts – meaning that state law and legal precedent allows for changes to these aspects of pension policy.
What's unclear is whether New Jersey can shift workers' vesting periods or benefit calculations, because neither of those issues have been brought to court and there is no existing law explicitly prohibiting these changes.
It is important to note that current retirees' benefits have greater legal protection than those of active employees. Apart from reduced or eliminated COLAs, current retirees' benefits cannot be taken away or reduced.
Disclaimer: The information here doesn't constitute legal advice or representation. Equable is not necessarily recommending any of the policies discussed in the infographic. Some may not work for certain states, others may not be desirable policy. Ultimately, any pension policy change should honor promises made to public workers and put them on a path to retirement security, while ensuring sustainable funding measures.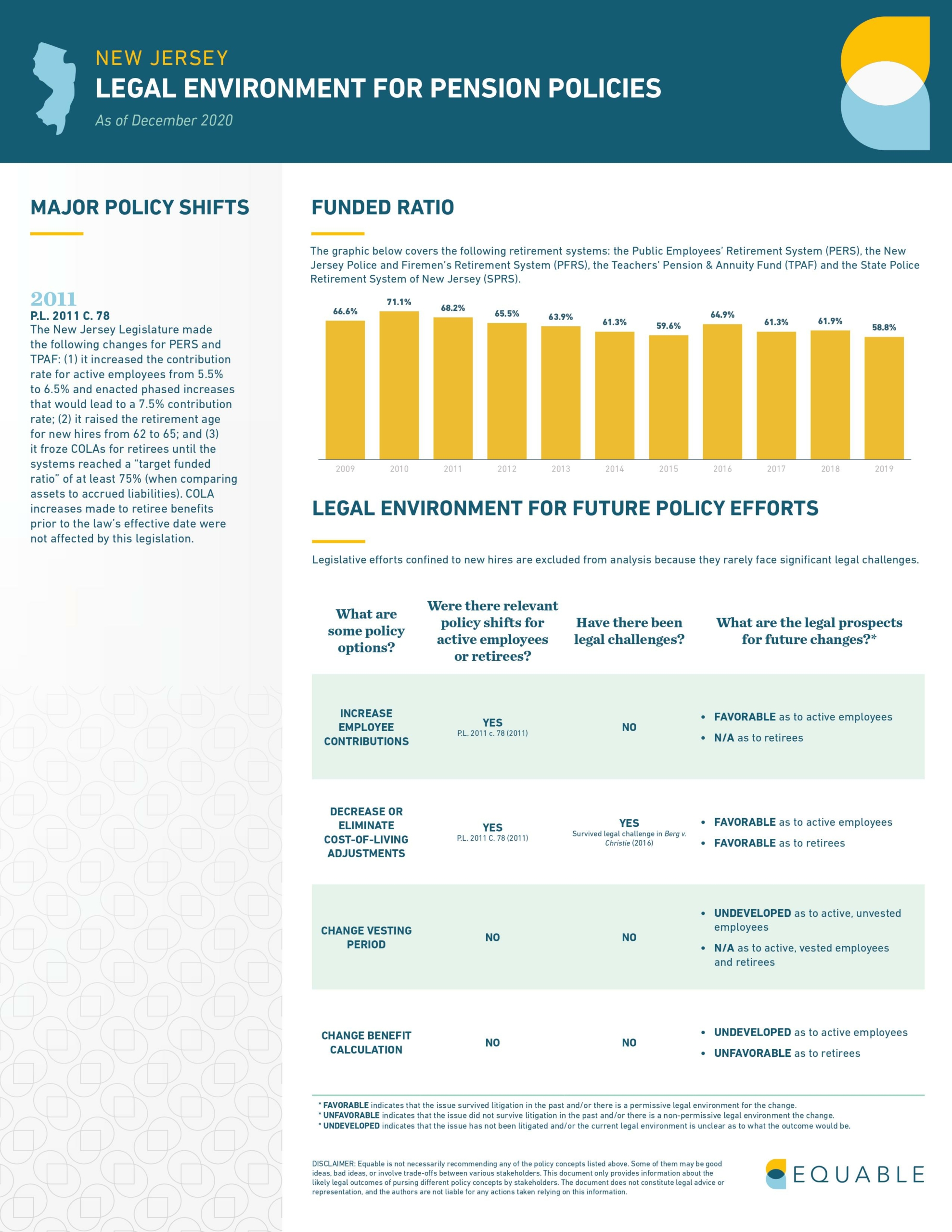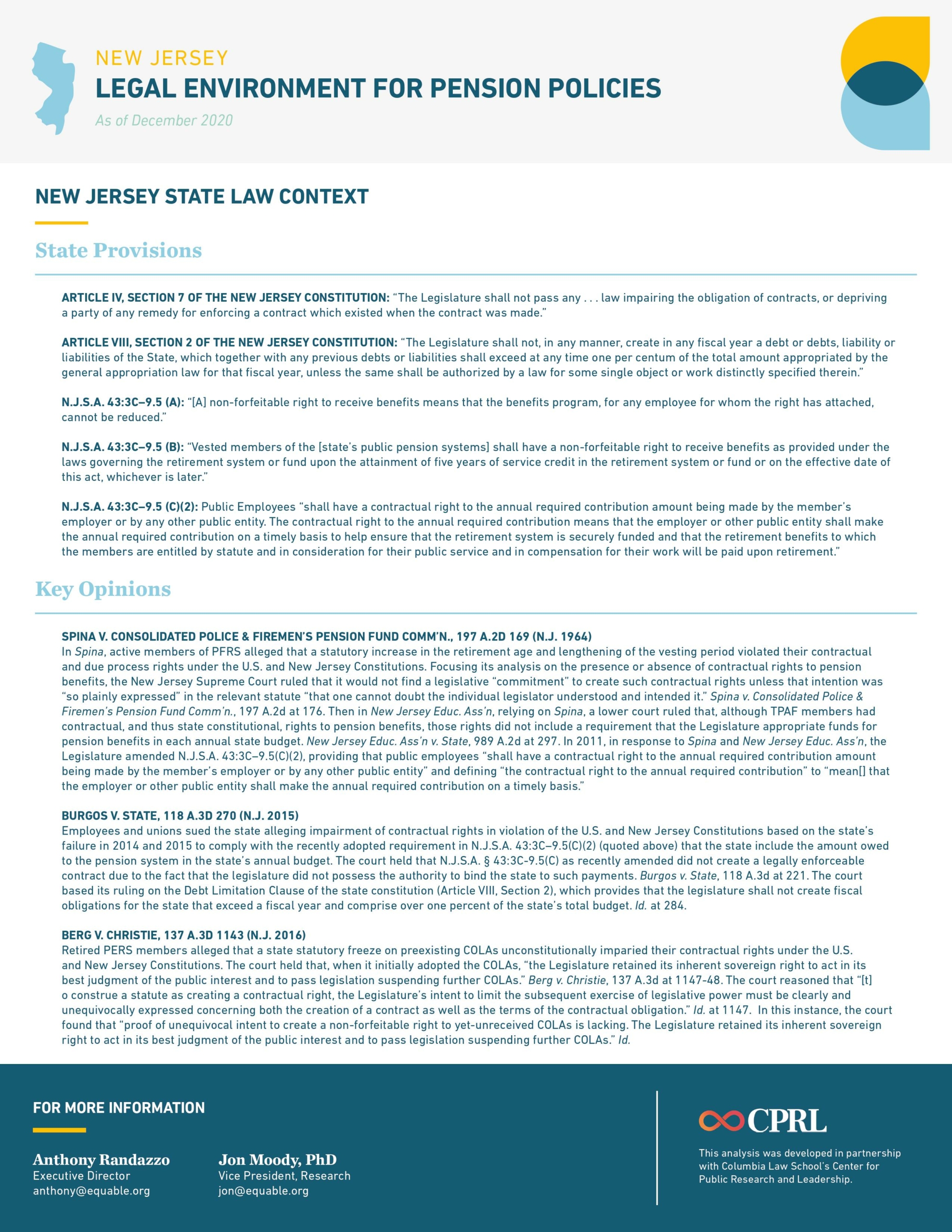 New Jersey to Fully Fund Pension System for First Time in 25 Years
New Jersey plans to fully fund its pension system for the first time in 25 years with a $6.4 billion contribution, Gov. Phil Murphy announced during his annual budget address on Feb. 23.
"The problems in our pension system, rather, have everything to do with past administrations, of both parties, and going back 25 years, who simply and short-sightedly decided not to pay," Murphy, a Democrat, said in his pre-recorded address, which was streamed on YouTube. "In fact, some suggest, even today, that we skip out on our pension obligation. We won't go back to those failed, old ways."
New Jersey last paid its full pension bill in 1996, but in the years after state leaders continually paid less than the Actuarially determined contribution (ADC) called for. Putting off the full contribution caused the state's pension debt to increase, similar to someone who only pays the minimum payment on their credit card.
In other words, inaction on the part of state leaders and the legislature led to billions of dollars in pension debt that could've been avoided had the ADC been paid consistently over the years.
This caused the Garden State's pension system to be the most underfunded in the country—in 2019 the funded ratio was near 40% and it was estimated the retirement system for state workers could run out of money in 12 years.
New Jersey has been taking steps to improve its pension system—annual payments have been increased by increments of 10 percentage points per year in an effort to meet the 100% ADC by 2023.
Murphy's proposal would help the state reach that mark a year earlier than projected. "Making the payment is keeping our word to hundreds of thousands of retirees who depend on their pensions," Murphy said. "It means keeping our word to families all over our state who were made promises by governors who then turned their back on them."
While its case is the most severe, New Jersey is hardly alone in neglecting its ADC obligations. Many states have paid less than what was required over the years, even before the Great Recession or Covid-19 rattled the economy, according to Equable's analysis.
Infographic: State Funded Ratio Histories

Download this infographic here.

These graphics originally appeared in the December Update to State of Pensions 2020. Read the report at Equable.org/stateofpensions.

Individual state graphics are available for download here. 
Understanding the State of Teacher Pension Funding in 2020
Teachers and educators make up the largest group of public employees in the country. Roughly half of the pension promises made by states and cities have been made to public school employees. But roughly half of the pension debt in America is held by teacher pension plans too. Here is a snapshot of the state of teacher pension funding in 2020.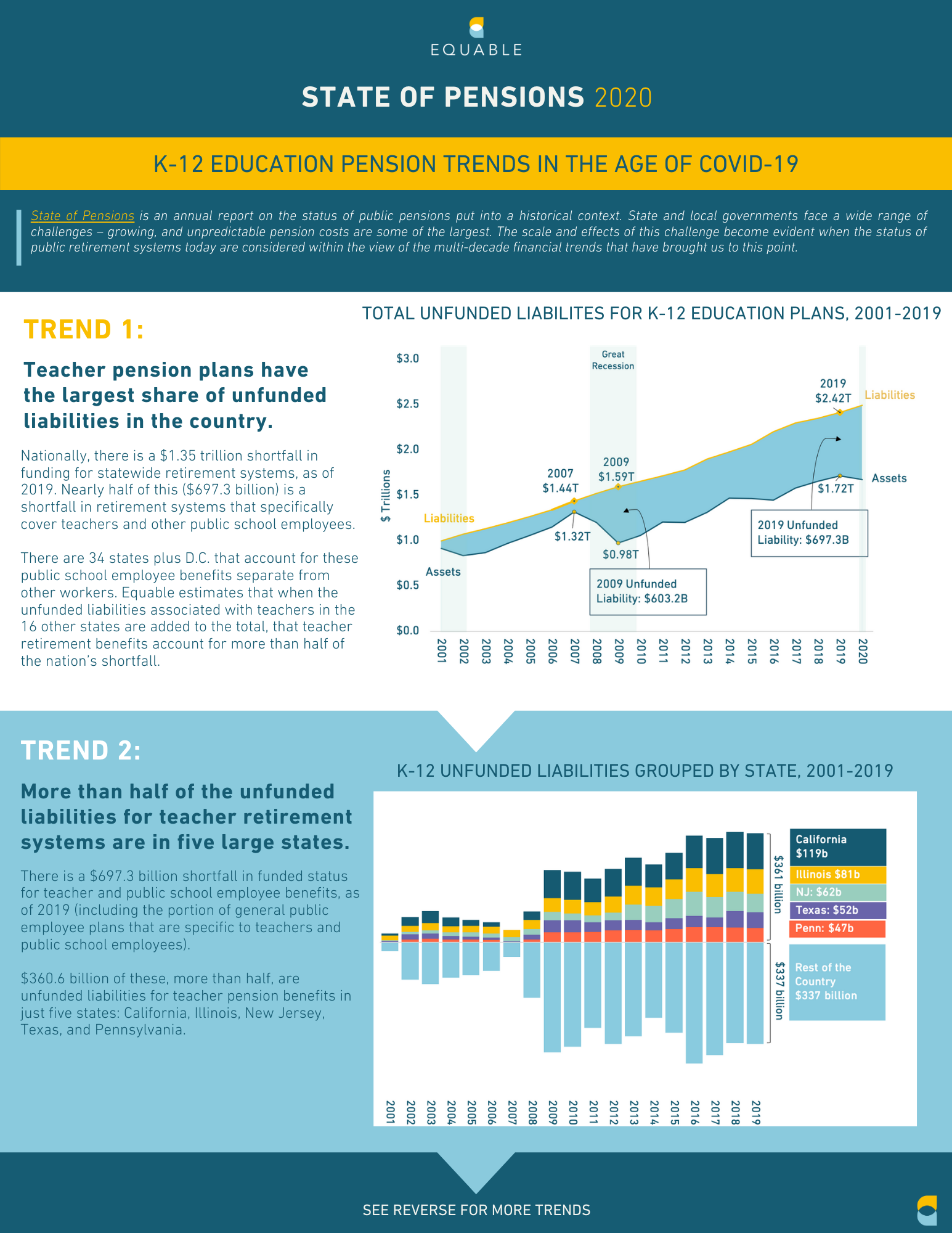 Click Here to download this fact sheet. To learn more about pension funding for all professions, check out Equable's full  State of Pensions 2020 report.
Which States Have Laws that Allow for Police Pension Forfeiture?
If a police officer commits a crime in the course of performing their duties, they may be at risk of losing their pension. But only in certain states.
Most states have some kind of "pension forfeiture" laws on the books. These laws usually are related to public employees that are either convicted of, or plead no contest to, a felony or unlawful killing.[1] Only 23 of the state laws cover law enforcement employees, such as police officers.[2] There are three states that might cover police, depending on how they're interpreted, and 24 states without laws covering police.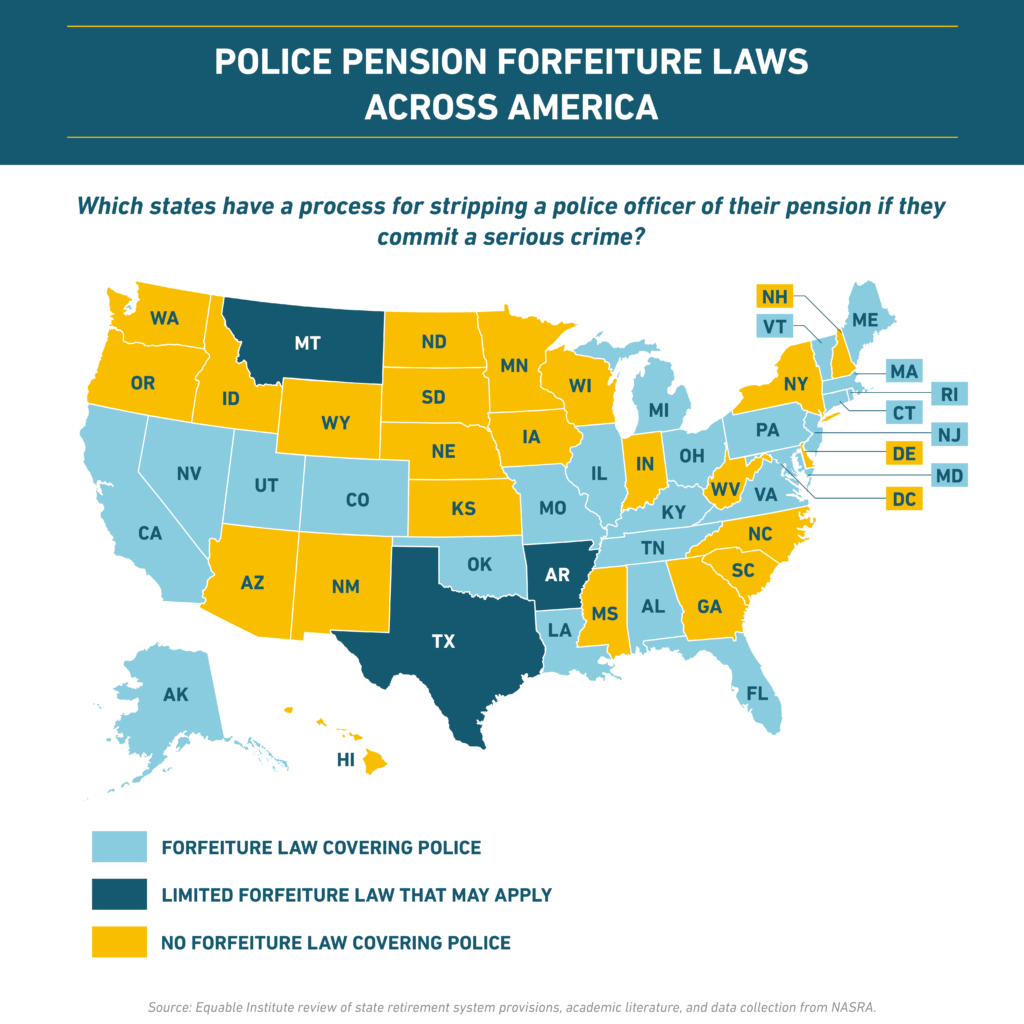 The details about what kind of crimes will lead to pension being stripped from a police officer vary from state to state. Usually the forfeiture law is limited to on-duty offenses, other times it is not. A few states allow for pension benefit reductions rather than taking the whole pension away. And the process for determining whether a pension is to be forfeited isn't always the same: some states automatically strip pensions from individuals under these circumstances, other states have judges order the pension taken away or require pension boards to hold  proceeding to consider taking the right to a pension away.
For complete details, please review the relevant statutes in your state.
If you are interested in learning more about the benefits offered to public safety officers in your state, check out the Retirement Security Report.
Disclaimer: This article and infographic is not intended as legal advice or formal legal analysis. 
__________
Notes:
[1] There are seven states with pension forfeiture laws that do not apply to police officers, including: Delaware and Minnesota (laws only applies to surviving beneficiaries who commit an unlawful killing, not active members); Indiana and South Carolina (laws allows for pension benefits to be used as restitution for theft or embezzlement of public property, but does not otherwise require forfeiture for committing a crime); New Mexico and North Carolina (laws allow for pension forfeiture of elected official benefits only); New York (a 2018 law only allows pension forfeiture for elected officials, judges, and gubernatorial appointees)
[2] There are three states with laws that could be interpreted as covering police officers in addition to the 24 listed on the map above. Texas has a pension forfeiture law that only applies to the state Employees' Retirement System, which does include some state police officers, but does not cover the vast majority of police around the state. Arkansas and Montana have laws that strip the pension of a public employee if they commit an unlawful killing, but only if the person they kill is another public employee.
New Jersey Likely to Reduce Pension Contributions
New Jersey is highly likely to reduce or delay its public pension contributions because of the coronavirus, according to a report from S&P Global Ratings that downgraded the state one ratings notch.
Analysts said there is a "significant possibility" there will be a reduction or postponement in contributions, given the extraordinary pressure the nation's worst funded retirement system is putting on New Jersey's already constrained budgets, according to a Wednesday report from the credit rating agency.
The report gave the state an "A-," down from an "A," with an outlook for future rating actions moving to negative from stable.
For New Jersey, ongoing revenue losses may well result in another credit downgrade. S&P Global Ratings analysts said there is a 33% chance the state will see its score cut once more within the year.
Read the rest of the article in the Chief Investment Officer. 
_______________
This article republishes selections from "New Jersey Likely to Cut Pension Contributions, S&P Global Says" an article by Sarah Min for Chief Investment Officer, 5/1/2020.
COVID-19 Exacerbates Plight of New Jersey's Pension System
New Jersey's murky financial outlook did not get any clearer when the State Treasury released its monthly collections report.
The document showed that March's lottery receipts fell by more than 27 percent last month, compared to March 2019. As a result, the state took in just $78.3 million for the month, versus $107.6 million a year ago.
The $29.3 million difference added to what was already a slow 2020 for the lottery, the proceeds from which help fund the retirement programs for police and firemen, teachers and other state employees. According to the statement, collections for the first three months of 2020 are at $707.8 million. That's down from $805.3 million a year ago.
Read the rest of the report at The Center Square.
_______________
This article republishes selections from "New Jersey's already precarious pension system in peril thanks to coronavirus crisis" an article by Steve Bittenbender for The Center Square, 4/22/2020. 
New Jersey Pension Fund Returns -13% Since July
New Jersey Pension Fund, Trenton, sustained a negative return of more than 13% from the beginning of its fiscal year on July 1 through Monday, according to preliminary estimates, due to the plunging stock market's reaction to the coronavirus outbreak.
CIO Corey Amon described the pension fund's performance Wednesday at a meeting of the State Investment Council, which formulates policies for the division of investment, the state Treasury Department unit that manages investments for the pension fund. Mr. Amon is director of the division.
"It will be some time" before the division can assess the full impact of COVID-19 on the pension fund, Mr. Amon said. The meeting was held via telephone rather than at its normal Trenton location.
Although Mr. Amon offered the brief comment about preliminary data, the division of investment provided more detailed information about the pension fund during the first two months of 2020 as well as for the fiscal year through Feb. 29.
For the first two months of the year, the pension fund's return, net of fees, was -3.81% vs. a benchmark of -3.55%.
For the eight months of the current fiscal year, the return was 0.93% vs. a benchmark of 1.95%. Given Mr. Amon's comments about preliminary results through Monday, these figures illustrate the extreme volatility over just a few weeks.
Read the whole article in P&I Online.
_______________________
This article quotes selections from "New Jersey Pension Fund returns -13% since July," by Robert Steyer in P&I Online, 3/25/2020. 
Sweeney to Back Murphy Millionaires Tax in Exchange for Increased Public Worker Pension Funding
After two years of opposition, New Jersey's most powerful state lawmaker will consider working with Gov. Phil Murphy to hike taxes on millionaires in exchange for a hefty tradeoff: an extra $1 billion for the state's strapped pension fund, NJ Advance Media has learned.
State Senate President Stephen Sweeney said he's softening his stance on Murphy's millionaires tax, but only if it means addressing the chronic underfunding of the state's public-worker pension system.
"We're dying a slow death," Sweeney, D-Gloucester, told NJ Advance Media. "We've got to get to full funding quicker."
Sweeney's comments, made just days before Murphy's 2021 state budget address, open a new chapter in the tax stalemate between the Garden State's two top Democrats, who have clashed frequently since Murphy took office in 2018.
Both have made turning around the pension system a priority but with markedly different approaches. Sweeney has called for sweeping reforms that would move away from a strictly defined-benefit plan, while Murphy has said the state must begin making the full payment recommended by actuaries.
Read the whole article in NJ.com.
_______________________
This article quotes selections from "Sweeney will back Murphy millionaires tax if public worker pension funding gets huge boost," by Brent Johnson and Samantha Marcus in NJ.com, 2/23/2020.
New Jersey Public Pension System Plans to Lower Assumed Rates of Return
Later this year, New Jersey will begin a planned lowering of the public-employee pension system's assumed rate of return for its long-term investments.
The move will bring New Jersey more in line with what other states have been doing in response to changing market conditions, as bond yields shrink and annual economic growth rates are more modest compared to those seen before the Great Recession.
A seemingly arcane aspect of fiscal planning, the change has important ramifications for the state's budget, in addition to the pension system itself. […]
Just how much of an impact the assumption-rate change will have on New Jersey's budget, as well as the budgets for local governments, remains to be seen. The first annual spending plan that will reflect the state's move to a more realistic rate of return is fiscal year 2021, which begins later this year. Murphy is due to unveil his budget proposal for FY2021 to lawmakers next month.
For well over a decade, New Jersey's $77.7 billion pension system operated under an assumed rate of return that equaled roughly 8%, which was considered an aggressive figure, especially for a retirement plan that is one the nation's worst-funded.
Read the whole article in NJ Spotlight.
_______________________
This article quotes selections from "NJ Is Set to Change a Key Assumption About Public-Employee Pension Investments" by John Reitmeyer in NJ Spotlight.